In this point you can read more about all the practical informations that are worth knowing and remembering. This makes you get around the site easier and more pleasant.
CATERING
When you are volunteering at COPENHELL, catering is supplied for you during your shifts. Are you on shift before and/or after the festival, we will offer you lunch and dinner in Local Catering, as well as beverages and snacks during the day. Are you on shift during the festival, you will be given a number food and drink tickets, you can distribute yourself. So, remember to eat breakfast at home and if you want, bring a canteen or drinking bottle to work.
In the days before and after the festival, a "Snack-patrol" will be patrolling every nook and corner of the site with beverages, snacks and other assortments.
During the festival, Local Catering is still open, so you can get water, juice water, coffee and tea, if you are on a shift. However, the "snack-patrol" will be parked in the garage.
Remember to coordinate with your team leader, if you leave your post.
WATER STATIONS AND BEVERAGES
At COPENHELL the water from the various sinks is drinkable. However, the water from the toilet wagons is not drinkable.
You are more than welcome to bring a canteen/drinking bottle and refill water bottles.
ATTIRE
We recommend practical and pleasant attire, which you do not mind getting dirty. We also recommend proper footwear, rain clothes, and extra shirt and sunscreen in your bag. Weather can change and be a mixture of scorching sun and violent rain pour, so as always in Denmark. Prepare for anything.
Are you on shift before or after the festival, you will be required wearing safety shoes. You can bring your own, but they must be approved for category S1P, S3 or S5. We also loan out safety shoes, but remember a pair of extra socks, so they are comfortable wearing.
CAMPING / OVERNIGHT STAY
COPENHELL has a very limited number of camping sites available for volunteers, that needs a spot. Whomever offered a camping spot, depends on an individual assessment which can be e.g., distance to place of residence and shift schedule.
Each camping spot consists of two people. So, when you apply for a spot in the camping area, it will be in pairs. Both people must be registered as a volunteer. You cannot share a volunteer spot with a regular guest.
If you already have a couple set up, just send a mail to kontorcrew@copenhell.dk with both persons full names, which must match with names you wrote when you signed up
If you do not have a partner, you can join our Facebook Group COPENHELL frivillig camping match up, where volunteer people without a camping partner, can find one. After you find a partner, you send a mail to kontorcrew@copenhell.dk with both people's names.
Remember, you have to bring ONE tent, which is no larger than 2,5 x 2,5 m, including guy lines and others.
Deadline for applying for a campingspot will be June 1th
You can read more about camping, here: COPENHELL Camping
TOILET AND BATHING CONDITIONS
There will be toilets around the site; the numbers, however, varies as to when you have your shift. You can always ask your teamleader or the volunteer office where the nearest toilet is.
During the festival, you will be able to shower at the camping site, for those who has a camping pass.
SATAN´S BACKYARD
The Volunteer community at COPENHELL is very special to us and we really want to support that!
At our volunteer area – Satan´s backyard – you will, amongst other things, find our volunteer bar with excellent prices and even better atmosphere. On top of that, we will have various activities you do not want to miss. These will be announced in both Satan´s backyard and the volunteer office.
Join us for a while; hang out with other wonderful volunteers, have a 20 min powernap, play a game, lather your throat, do a scavenger hunt or whatever you want to do. There are many things you can do in Satan´s backyard.
You will find Satan´s Backyard in the forest between "Udgård" and "Pandæmonium".
Opening hours in Satan´s Backyard
Wednesday: 12:00pm – 01:30am
Thursday. - Saturday.: 12:00pm – 02:00am
VOLUNTEER WARDROBE
Are you working before or after the festival, you have the option of storing your belongings near Local Catering. Are you working during the festival, you can also leave your things there, while you are working. Ask your team leader, if you need storing.
NOTICE: Storing of belongings are on your own responsibility and COPENHELL will not be replacing any lost property. We recommend keeping your valuables with you.
ALSO, please avoid leaving stuff, baggage, clothes or similar lying around in Local Catering or the volunteer area all together, as it will be removed.
LOST AND FOUND
Anything found or lost before, during and after the festival, will be handed over to our guest wardrobe. After the festival, all the lost goods will be gathered in one place, until about a week after the festival, and then handed in to the Police Lost Property Office
CHARGING OF DEVICES
There will be an opportunity to charge your phone, when you are on shift. There will be a charging station at both Satan´s backyard and the Volunteer Office, but you have to bring your own charger. Charging is entirely on your own risk – no one is going to keep an eye out for your things. But we do look of course look out for each other's things!
INSURANCE
All the volunteers at COPENHELL are covered but the legal workers compensation insurance. It covers personal damage, but not private properties. This means e.g., if you drop or lose your phone, COPENHELL are not liable.
On top of that, COPENHELL has an insurance, that will cover third parties, if a volunteer happens to cause damage to a third party.
All damages must be reported to your team leader and the volunteer office.
WASTE SORTING
At COPENHELL, we as a business, are responsible for sorting our garbage correctly, so that it can be reused, specially treated or in some way be used again in a new life.
Therefor we, COPENHELL, must sort our garbage more thoroughly than before.
At COPENHELL the garbage must be sorted in to three main groups, where we will have a special eye out for the first group "special assortments":
Special assortiments:
Card board and Carton
Food waste
Metal
Glas
Wood
Impregnated wood
Dangerous garbage
Non-sortable garbage
TRANSPORTATION
There are a few options when you are traveling to and from the festival. You may find that information here. Later on, we will add a map over the festival site.
MAP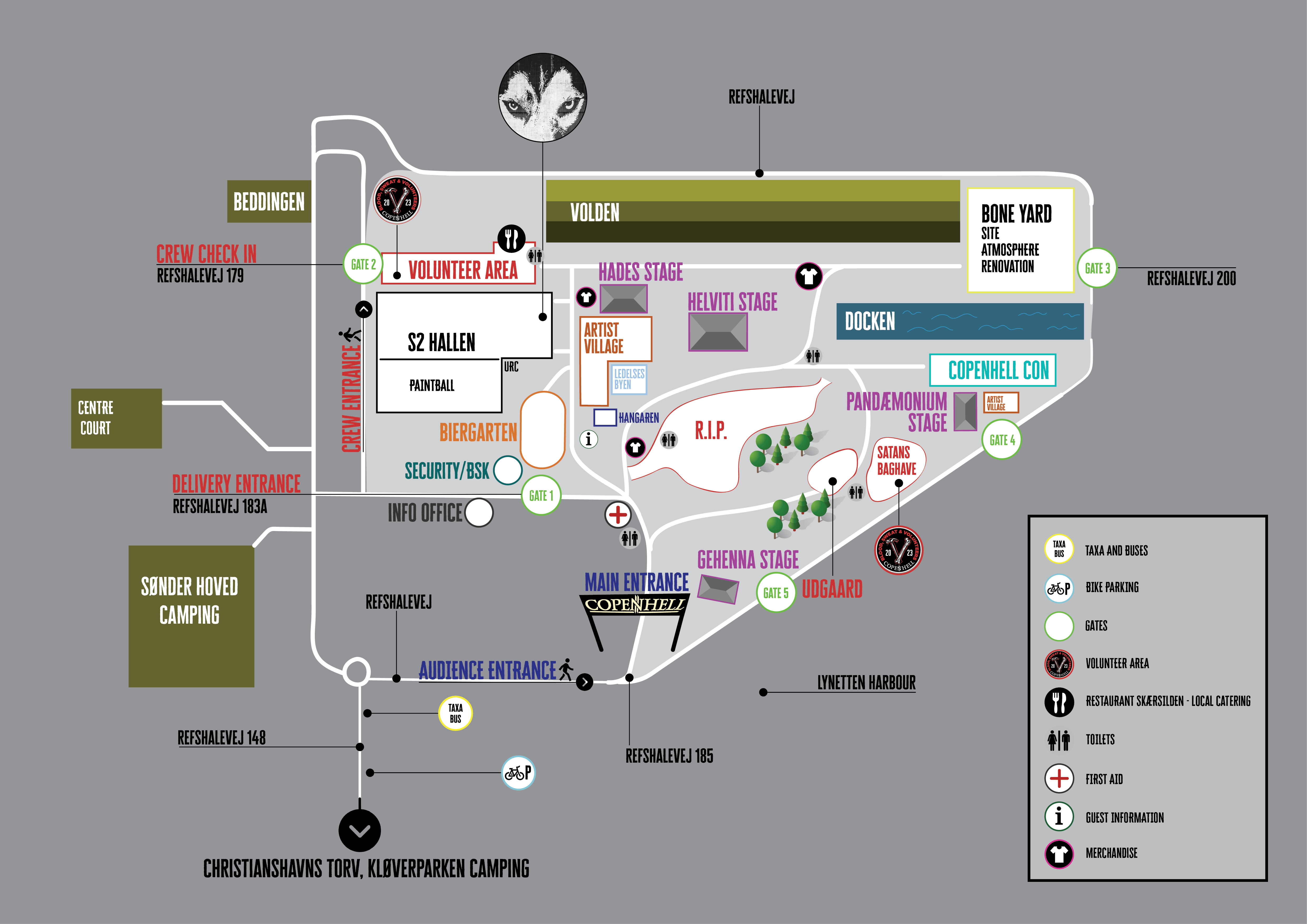 ADDRESS
COPENHELL is located at Refshaleøen, Amager. The address is Refshalevej 185, 1432 København K. 
We recommend that you walk, bike or use public transportation as parking is very limited.
BICYCLE
Bicycle parking is available by the entrance to COPENHELL.
The specific location will be visible at the map.
CAR
Going to COPENHELL by car is not recommended. Before and after the festival COPENHELL cannot offer any parking options and we refer to local parking in the area. Pay attention to local parking regulations. COPENHELL does not reimburse parking expenses, fines or tickets.
BUS
Bus 2A departs for the festival site regularly. Check the timetable at www.rejseplanen.dk or www.dinoffentligetransport.dk. During the festival there will also be shuttlebuses, that you can use.
HARBOUR BUS
The harbour bus 991/992 leaves for Refshaleøen, right by the "Sønder Hoved" camping site. We refer to the timetable at www.rejseplanen.dk or www.dinoffentligetransport.dk.